Upgrading and Fixing PCs For Dummies, 7th Edition

Completely rewritten in 2007 to cover upgrading and fixing Windows Vista!
Like its predecessors, the seventh edition of Upgrading and Fixing PCs For Dummies shows you how to do the things you may have been afraid to try in the past.
Packed with a 16-page full-color insert, the book tackles these chores and more:
Moving from an old Windows XP PC to a new Vista PC
Beefing up your PC's graphics to handle Windows Vista and gaming
Finding Windows Vista-compatible drivers
Networking your computers
Adding wireless access to your network
Adding a TV Tuner to record shows with Vista's Media Center
Installing or upgrading to Windows Vista
Installing Windows Vista on a new hard drive
Installing memory, hard drives, printers, scanners, cable modems
Replacing a dead power supply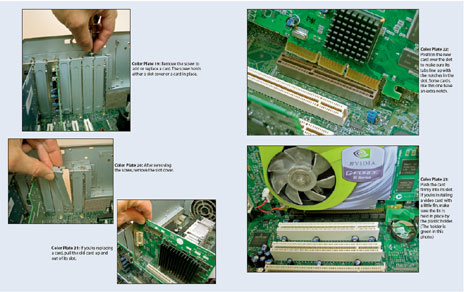 The 7th Edition not only explains how to upgrade your PC, but it shows you how with detailed full-color photos.
Click the book's cover to visit its link on Amazon, where you may browse through it online before buying it.
Browse the complete Table of Contents online.
Complete and update list of mentioned Web sites:
Alphabetized by site name, these Web sites all earned a mention in "Upgrading and Fixing PCs For Dummies, 7th Ed."
Can't find a site mentioned in the book? Please let me know, and I'll add or update it. If it's not mentioned in the book, try searching for it on Google.
Acronym Finder (www.acronymfinder.com): This site reveals what acronyms like IEEE really mean.
Adobe's Acrobat Reader (www.adobe.com): Adobe's free Acrobat Reader displays PDF files, commonly found on the Internet for displaying manuals or forms.
Amazon (www.amazon.com): This popular online retailer sells cable modems and lots of other computer equipment.
Apricorn's EZ Upgrade Universal Hard Drive Upgrade kit. The kit makes it easy to upgrade your notebook's hard drive. Plus, it turns your old hard drive into a portable hard drive that plugs into a USB port.
Audacity Sound editor: Software for recording and editing sound. It's perfect for creating podcasts.
Avery (www.avery.com): I love the free Avery Wizard that provides preconfigured Microsoft Word templates for printing onto just about any size of Avery's "sticker" labels. (Avery's Web site also carries templates for Avery business cards, CD labels, mailing labels, dividers, greeting cards, and more.)
California-based Computers & Education Computer Recycling Center (CRC) (www.crc.org): The oldest computer recycling program in the United States, the CRC has recycled or reused more than one million computer systems since its founding in 1991. Working with businesses and local governments, CRC's collection and drop-off programs kept more than six million pounds of computer equipment from the nation's landfills in just one year.
Dell ((www.dell.com), Gateway (www.gateway.com): Type in your PC's serial number at these sites to view a list of its parts and drivers.
DVI Gear (www.dvigear.com): This online retailer provides helpful information when looking for analog-digital cable converters for plugging flat-screen monitors into video cards.
eBay (www.ebay.com): On this online auction site, people buy and sell obsolete and hard-to-find computer parts (and anything else you can think of.)
Google (www.google.com): If something's listed on the Internet, this powerful search engine can usually ferret it out quickly.
IBM's PC Recycling Service (www.ibm.com/ibm/environment/products): IBM's recycling program accepts any manufacturer's PCs (including monitors, printers, and peripherals) from consumers and businesses. For only $29.99, including shipping), IBM's worldwide program accepts your computer discards, saves anything refurbishable for philanthropic organizations, and recycles or safely disposes of the rest. It's a great way to kick your karma points up a few notches.
Institute of Electrical and Electronics Engineers, Inc. (IEEE) (www.ieee.org): The IEEE's site lists lots of nerdy information about standards for computing and science.
Jim Taylor's DVD Demystified FAQ (www.dvddemystified.com/dvdfaq.html): Jim Taylor's DVD Demystified site contains up-to-date online information about DVDs.
Kingston (www.kingston.com), Crucial (www.crucial.com): These memory retailers offer handy, online forms to help you decide how much memory you need for your computer.
Microsoft's DirectX (www.microsoft.com/directx): DirectX, used by many games for displaying fancy graphics, can be downloaded here.
Microsoft's Windows Vista Update Advisor: Microsoft no longer offers this downloadable program that examines your Windows XP PC and tells you what parts of need upgrading in order to run Vista.
Microsoft's Windows Update (www.windowsupdate.com): Microsoft examines your computer for missing security patches and lets you install them at its Windows Update site.
Microsoft's Windows XP Upgrade Advisor (http://www.microsoft.com/windowsxp/pro/howtobuy/upgrading/advisor.asp): Fast modems can download Microsoft's free Upgrade Advisor program that probes and reveals if your computer's compatible with Windows XP.
Microsoft's Windows Vista: Windows Vista's system requirements, direct from Microsoft.
Microsoft Windows Vista's Versions: Microsoft's Windows Vista site explains the differences between Vista's umpteen different versions in lengthy detail.
PC Power and Cooling no longer offers an online form that recommends a quality (and quiet) power supply to meet your needs.
Practically Networked (www.practicallynetworked.com): Lee Musick, the technical editor for "Upgrading and Fixing PCs For Dummies, 6th Edition," likes the networking information on this site.
Pryme: I used this free WebCam software to run my WebCam, but it's no longer available.
RioWorld (www.rioworld.org): James Machacek's site offers up-to-date drivers, firmware, and software for the Rio 300, 500, 600, 800, Rio One, and other Rio-related MP3 players. It's all free, and it's almost all better than what came with your Rio MP3 player.
SiSoftware's Sandra (www.sisoftware.demon.co.uk/sandra): This popular free utility reveals lots of detailed information about your computer's innards, including its AGP card and port.
SweetArt (www.sweetart.com): The Olathe, Kansas based "Sweet Art" company sells printers that copy pictures from a computer's screen onto plain, iced cakes using edible food coloring, also squirting pictures onto cookies and cupcakes.
Symantec's Hoaxes www.symantec.com/avcenter/hoax.html, Truth or Fiction (www.truthorfiction.com), Snopes (http://www.snopes.com): Not sure if that e-mailed warning or story is legit? These sites all help separate Internet "hoaxes" from the real thing.
Symantec (www.symantec.com), McAfee (www.mcafee.com), F-Secure (formerly "DataFellows" (www.f-secure.com/), TrendMicro (www.trendmicro.com), Norman (www.norman.com): These sites all offer antiviral programs for your computer.
Tom's Hardware Guide (http://www.tomshardware.com): Tailored toward the technical, Tom's site carries detailed, technical reviews of PC hardware.
Wikipedia: This free online encyclopedia  offers a wealth of information on all subjects, but really shines with its technical and computer knowledge.
Webopedia (www.webopedia.com): A good place to find short definitions to computer terms.
Yahoo (http://photos.yahoo.com): Upload your digital photos here, e-mail the site's password to your friends, and they can view your Embarrassing Party Photos.
Zone Labs, Inc. (www.zonelabs.com): Zone Labs, Inc. offers a free, non-profit use ZoneAlarm firewall that detects unauthorized Internet activity. Upgrading to their Professional version offers more cool features.
Comments
Write a comment