Upgrading and Fixing Computers Do-It-Yourself For Dummies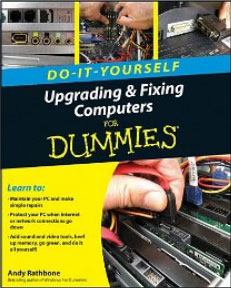 Completely rewritten in 2010 to cover upgrading and fixing Windows 7!
Upgrading and Fixing Computers Do-It-Yourself For Dummies takes a step-by-step approach that walks you through some pretty scary computer tasks.
To keep you on track, nearly every step includes an illustration, whether it's a screenshot from Windows 7, Windows XP, or a photograph of how to install or replace a computer part.
Designed for people who'd rather save money by doing repairs themselves, the book covers fixes, upgrades, and repairs for netbooks, laptops, and desktop computers.
The easy-to-understand book tackles these chores and more:
Moving from an old Windows XP or Windows Vista PC to a new Windows 7 PC
Knowing which parts work with your particular PC, buying them at the best price, and avoiding the lemons
Beefing up your PC's graphics to handle Windows 7 and gaming
Tracking down Windows 7-compatible drivers for troublesome parts
Running old but indispensable Windows XP programs in Windows 7's "Windows XP Mode"
Networking your computers
Adding wireless access to your network
Upgrading your netbook to a more powerful version of Windows 7
Installing Windows 7 on a new hard drive
Installing memory, hard drives, printers, scanners, and cable modems
Diagnosing and replacing a dead power supply
Creating a system image backup
Salvaging your old computer's parts
Creating a portable hard drive from any hard drive, even one from an older computer
The book not only walks you through each installation job, but it explains how to find the most compatible part with the biggest bang for your buck.
Click the book's cover to visit its link on Amazon, where you may browse through it online before buying it.
Browse the complete Table of Contents online at Amazon.
Read the book's online Cheat Sheet

Corrections
A few errors inevitably creep into every book. These errors have appeared in Upgrading and Fixing Do It Yourself For Dummies. As soon as they're reported, I make sure they're fixed in the book's next printing.
Comments
Write a comment