Windows no longer shows photo layouts for printing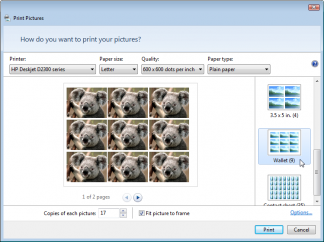 Q: On Figure 16-5, page 319 of Windows 7 For Dummies, I don't have any photo layout options for printing other than full page.
How can I get a choice of layouts, please? I am tired printing single photos.
A: Windows 7's built-in Photo Printing Wizard normally lists a variety of photo layout choices along its left pane. Some choices let you print a large photo across the entire page, for example; other options let you print wallet-sized prints, or contact sheets.
Those options vanish, however, under two conditions:
You've set the program's Paper Size options to something besides "Letter." To fix that, click the program's "Paper Size" drop-down box, shown to the right, and choose "Letter."
Your printer isn't set up to accept a normal, 8×11 inch sheet of paper. To switch your printer to that paper size and restore the layout options, follow these steps:
Click the Start menu and choose Control Panel.
Choose Hardware and Sound, then Devices and Printers.
Right-click your printer, and choose Printing Preferences.
Make sure that "Letter" is set in the Paper Sizes drop-down box.
Click OK to save.
When you return to the Photo Printing Wizard, the layout pane should reappear.
Posted: March 18th, 2010 under Windows 7, Windows 7 for Dummies.
Tags: layout pane, missing layout pane, missing print options, photo printing wizard
Comments
Write a comment