Where's the Clipboard Viewer in Windows XP?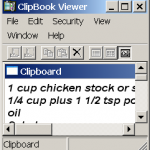 For some reason, Windows XP messed up the Clipboard Viewer. It's barely listed on the Help menus, and it isn't installed automatically when you upgrade to Windows XP. Even when you tell Windows to install it from its CD, it doesn't put a Clipboard Viewer icon on the menu. And that's a shame, as the viewer is a handy way to see exactly what's on your clipboard.
Windows XP's Clipboard Viewer is called the "Clipbook Viewer," and although flawed, it lets you see what's on your Clipboard. Here's how to put Windows XP's Clipbook Viewer onto your Start menu:
Click the Start menu button and open My Computer.
Open your C drive. (It's listed in the Hard Disk Drives section.)
Double-click on the Windows folder. (You might have to tell it to let you see what's inside.)
Double-click on the System32 folder. (Again, you might have to tell it to let you see what's inside.)
Scroll down the page until you locate a file named

clipbrd

or clipbrd.exe.
Right-click that file and choose "Pin to Start menu." (Or, drag and drop the clipbrd file onto your Start button. Just let go of your mouse button when the dragged program's icon points at the Start button.)
When you open your Start menu, the Clipbrd program's icon will appear near the top.
To put a shortcut to that file on your Desktop,  right-click the Clipbrd file, choose SendTo, and choose Desktop (Create Shortcut).
Whenever you want to see exactly what's being stored on your Clipboard, double-click on that icon. The Clipbook Viewer will appear, letting you peek at its contents.
Note: Microsoft seems to have stripped the Clipbook Viewer of the advanced features found in older versions. You can't "stockpile" multiple clips, for instance, or swap clips with networked computers. (The program's Help menu still says you can do things, oddly enough.) But if you just want to see what's on your Clipboard, the stripped-down Clipbook Viewer works fine.
A more technical note: A reader writes this:
"In your writeup titled 'Where's the Clipboard Viewer in Windows XP?' I suggest that you add to it that sometimes the clipbrd file has not been expanded as was my case. I found the file (XP) in directory: I386 named as clipbrd.ex_ I told it to expand clipbrd.ex_ clipbrd.exe and copied the file to the "system32″ directory and followed your suggestion."
Posted: August 24th, 2009 under Windows XP.
Tags: clip board, clipboard, clipboard viewer, clipbrd, clipbrd.exe, view clipboard, windows clipboard
Comments
Write a comment