What happened to Windows Live Mail and SkyDrive?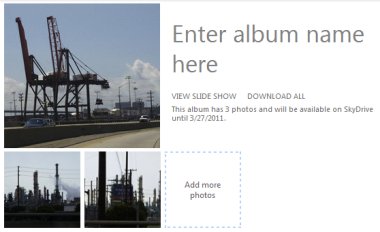 Q: I tried to find out how to attach a document to an email in your book.
I followed the steps, but my email instantly changed to a "SkyDrive photo album."
I'm trying to attach scanned documents, not photos. Your book doesn't address any of this, and it doesn't even mention SkyDrive. What's wrong?
A: About a year after Windows 7 For Dummies was published, Microsoft released a new version of Windows Live Mail. The new version differs quite a bit from the older version of Windows Live Mail that's described in the book. For example, Microsoft added SkyDrive, which is causing your problems.
The book's being updated, but here's what's happening: When you e-mail photos to a friend, Windows Live Mail no longer sends the photos to your friend. Instead, Windows Live Mail uploads those photos to a storage space called "SkyDrive" that lives on Microsoft's computers. Windows Live Mail only mails thumbnail-size images to your friend.
When your friend receives the thumbnail images, he or she can do any of these things:
View the thumbnail images
Click a thumbnail image to see the larger image living on SkyDrive
Watch a slide show of your larger images
Download the full-size images from SkyDrive
There's a catch, though. Microsoft deletes your photos from SkyDrive after 90 days, leaving your friends stuck with the thumbnail-sized pictures.
As for your scanned documents, Windows views all scans as "photographs" of pages. Windows isn't smart enough to know the difference between a vacation photo and meeting notes. So, when you try to e-mail the scanned documents, Windows Live Mail automatically converts them to the slide show you're seeing.
To stop Windows Live from mailing your scanned documents — or even your photos — as SkyDrive slideshows, send your images as attachments by following these steps:
Open Windows Live Mail by clicking the Start button and clicking Windows Live Mail.
When Windows Live Mail appears, click "Email message," and a blank e-mail will appear.
In the blank e-mail, click the Insert tab, and choose Attach File.
When the Open window appears, navigate to your scanned document or documents, select them, and click the Open button.
Address your e-mail, and click the Send button.
One more thing: Now that SkyDrive's in the mix, Windows Live Mail no longer lets you send scanned images by right-clicking them, choosing Send To, and selecting Mail Recipient. Those keystrokes used to resize your photos and add them as attachments to a blank e-mail window.
With the new version of Windows Live Mail, though, those keystrokes automatically format your images in Windows Live Mail's new "Sky Drive" slide show format.
If you're frustrated with Windows Live Mail, you might want to switch to a competing e-mail program,  like Google's Gmail.
Posted: December 27th, 2010 under Email, Software, Windows 7 for Dummies.
Tags: attach photo, photo email, SkyDrive, slide show, slideshow, windows live mail
Comments
Write a comment