Where's the "request read receipt" feature in Windows Live Mail?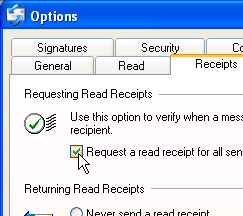 Q: Windows XP's Outlook Express had a Request Read Receipt feature that let me know when the recipient read my e-mail.
That feature seems to be missing from Windows Live Mail. Where did it go?
A: That feature, called "Request a read receipt for all sent messages," lives on in Windows Live Mail. But finding it requires a different set of keystrokes.
But first, some background. The Request Receipt feature emails you when the recipient opens your sent email. Theoretically, you'll know exactly when your boss saw your e-mail asking for that raise, for example.
The feature isn't anywhere near foolproof, though. You'll never receive that "message received" email under these conditions:
When your e-mail recipient doesn't use Windows Live Mail or Outlook Express.
When the recipient reads the email on her smartphone rather than her computer.
When the recipient clicks "No" when his email program asks permission to send the confirmation email.
When those stars align correctly, though, you'll know when your email was opened. (Whether the recipient actually read it is another story.)
To turn on the return receipt feature in Windows Live Mail, follow these steps:

Click the Windows Live Mail main menu (it's dark blue and unlabelled in the top, left corner), click Options, and choose Mail (shown below).

When the Options menu appears (below), click the Receipts tab, and click the box called, "Request a read receipt for all sent messages.

Click the OK button to save your changes and exit the menus.
That turns on the return receipts feature. It's easy to turn on, and on those few occasions when it works, it could be just what you've been waiting for.
Posted: June 20th, 2011 under Email, Windows 7, Windows XP.
Tags: outlook express, request a read receipt for all sent messages, return receipt, windows live mail
Comments
Write a comment