Printing small portions of a document or Web page

Q: I often write long items which can be up to 30 pages in length.  My problem comes when I have printed this off, then find I have to edit the last few pages. Up to now I wind up printing the whole 30 pages. Is it possible to only print the last few pages — the part with the newly edited text — and not the complete item?
A: Almost every program lets you print just the page or pages you want — not the entire document.
The key lies hidden in the Print dialog box, shown below, which appears when you click a program's File menu and choose Print.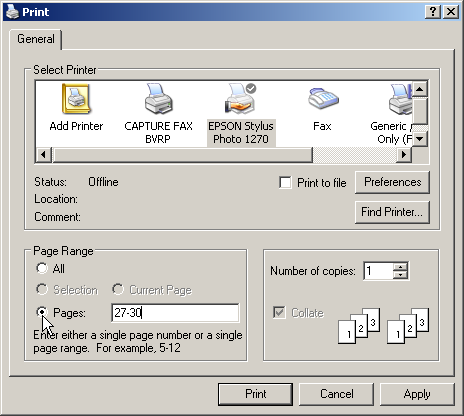 In the Page Range area, click Pages and enter the pages you want to print. The figure above, for example, shows how to print only pages 27 through 30.
The Pages box allows for a surprising amount of control simply by entering commas between the pages or page ranges you want to print. Enter 1,5,7-10, for example, to print pages 1, 5, 7, 8, 9, and 10.
Tip: Want to print only a paragraph or two from a document or a Web page? Select the part you want, then choose Selection instead of Page Range in the Print dialog box. Windows prints only the information you've selected. It's a great way print a snippet of information from a Web site without printing the entire page.
Posted: August 24th, 2009 under Windows 7, Windows Vista, Windows XP.
Tags: printing, printing portions
Write a comment