Turning off Windows' Magnifier
Q: Please help me, as the split screen in Windows is driving me nuts. Somehow I triggered a magnifier, which now comes up at the top, splitting my screen. The movement in this half screen drives me nuts. How can I turn it off?
A: Windows 7 and Windows Vista's Magnifier, seen below, places a large magnifying bar across your screen's top. The magnifier enlarges the area around your mouse pointer, helping visually challenged people point and click the right spots on Windows' buttons, boxes, and windows.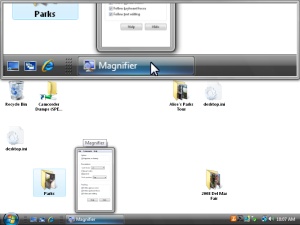 Windows' Magnifier is easy to turn on by accident, unfortunately, as it's listed in a helpful-sounding category called "Make things on the screen larger."
Once turned on, though, the magnifier is difficult to turn off, as it's hidden deeply in a little-used area of the Control Panel.
If you're stuck with a huge magnifying glass covering the top portion of your screen, here's how to turn it off:
Click the Start button and choose Control Panel
Click Ease of Access, then choose Optimize Visual Display.
Click to remove the checkmark from "Turn On Magnifier."
Click the Save button.
Should you miss that large lens, turn the Magnifier back on by following these same steps, this time clicking the blank checkmark in Step 3.
Posted: August 24th, 2009 under Windows 7, Windows Vista.
Tags: Magnifier, turn off magnifier
Comments
Write a comment