The problem with Media Player's copy protection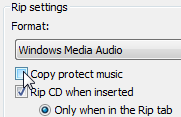 Q: I copied some of my music files from my old PC to my new PC. But my new PC won't play my WMA files.
Instead, I see a message that I need to download a license to play them. But when I click on the Download License link, a message says the license has been downloaded ten times and can't be downloaded again.
I converted these files to WMAs from my own CDs using Windows Media Player, and the CDs weren't copy protected. What's wrong?
A: Microsoft turned on copy-protection by default on the version of Windows Media Player that shipped with the original version of Windows XP. Unless you manually turned off the copy-protection, every WMA files you created during that time will have same copy protection problems you're now experiencing.
With copy-protection turned on, Microsoft keeps track of how many times the file is copied. When it reaches the limit of ten, Microsoft sends this message:
A license is required to play this file
The file you are trying to play was ripped (copied) from an audio CD.
During the ripping process, the file was "protected." This limits the number of computers on which the file can be played.
To play the file on this computer, you must download a license (a process known as "license migration"). A license acts an electronic key that allows you to "unlock" a protected file and play it.
To download a license for this file, click Download License .
You're now feeling the effects of the copy-protection that Media Player snuck into your files many years ago.
At this point, your only solution is to delete those old copy-protected files, and then rip your CDs again. But this time, create MP3 files, by following these steps:
Click Tools on the menu bar, and choose Options from the drop-down menu. (Press Alt to bring the menu bar into view, if necessary.)
Click the Rip music tab.
Choose MP3 from the Format menu, and click OK.
MP3 files lack copy protection, so they're less likely to cause problems in the future. But if you must stick with the WMA format, make sure the copy protection is turned off by following these steps:
Click Tools on the menu bar, and choose Options from the drop-down menu.
Click the Rip music tab.
Click to remove any checkmark from the "Copy protect music" check box, and click OK.
Tip: Be sure to delete your copy-protected files from both your hard drive and Media Player's library before re-ripping your CDs. Otherwise, you'll see several versions of your songs in Media Player's library, and you won't know which songs are copy-protected.
Posted: November 20th, 2009 under Windows XP.
Tags: copy protection, license is required to play this file, windows media player, wma
Comments
Write a comment