Avoiding attack sites on the Internet with Firefox

Q: While searching for holiday sales using Internet Explorer, a Web site sent me pop-ups saying my computer needed to be scanned for viruses, then began scanning it. What's going on? Is my computer safe?
A: You're seeing the result of a Web site that's been "hacked" or compromised. Web sites, just like computers, can be broken into by strangers. In your case, you're seeing a Web site that's been broken into and filled with pages that try to cause harm to your PC.
That's one of many reasons I recommend people switch their Internet browser from Internet Explorer to Firefox. Using Internet Explorer, I visited the three sites you sent me; all three performed a bogus "scan" on my computer, then tried to trick me into downloading a "program" that would cure my computer. (If this ever happens to you, readers, keep clicking the X in your brower's top, right corner until you've closed Internet Explorer and any residual pop-ups.)
But when I revisited the sites with Firefox, I was safe: Firefox displayed the "Attack Site" warning, seen below: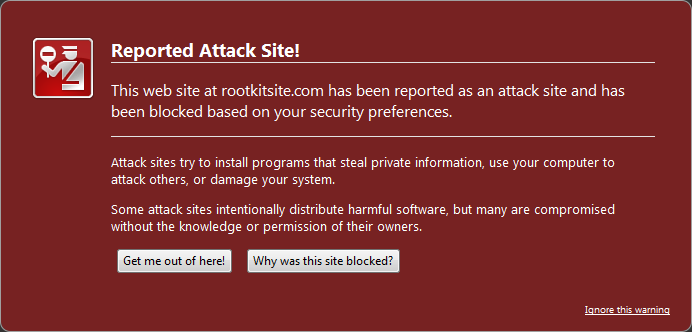 Clicking the "Get me out of here!" button took me back to my home page, and the infected Web page never had a chance to try to attack my computer.
If you're still using Internet Explorer, consider switching over to Firefox. It's just as easy to use as Internet Explorer, it's safer, and installing the program automatically imports your bookmarks and homepage from Internet Explorer.
Posted: December 30th, 2009 under Free software.
Tags: attack sites, firefox, get me out of here, pop-ups
Comments
Write a comment