Is it a Start button or an Orb?

Q: Your book, Windows 7 For Dummies, uses the term "Start" button for the button that launches the Start menu. As I understand it, the term "Start button" was changed in Vista (and continues in Windows 7), and the button is now called the "Orb."  That's one reason why the word "Start" no longer appears on the icon.  The Orb is a launch icon that provides access to Windows' programs and features.  The continued reference to the now non-existent "Start" button fails to recognize an important and long overdue change.
A: An "Orb," eh? Well, the button is spherical. And many folks on the Internet call the button a Start Orb. Even Paul Thurrott began calling it an Orb in his review of Windows Vista from November 16, 2006. (He still refers to the mystery switch as the "Start Button" in both his books, Windows Vista Secrets and Windows 7 Secrets.)
Microsoft, however, still refers to the button at the base of the Start menu as the "Start button" in both its online documentation and within Windows 7 itself.  For example, follow these steps to see Windows 7's own Help menu mention the "Start button:"
Click the Start button and choose "Help and Support."
Choose "Learn about Computer Basics," then choose "The Start Menu (overview)" to see the figure below.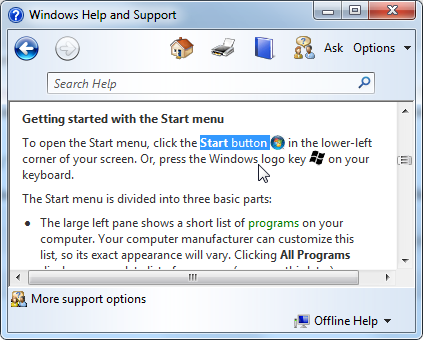 A search of Microsoft's Web site doesn't show the word "Start Orb" used in any official documentation, although some people call it that on websites.
One more bit o' proof: Hovering your mouse pointer over the Start button (or Orb) fetches the word "Start."
Although many people adopted the term "Orb" or "Start Orb" as a slang term for the Start button, it's not an official Microsoft term, so I didn't use it in the book.
What do you think, readers? Is it a Start button or an Orb?
Posted: January 1st, 2010 under Windows 7, Windows Vista.
Tags: orb, start, start button, start orb
Comments
Write a comment