Managing disk space by deleting one partition and expanding another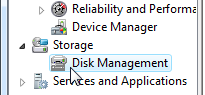 Q: My 250 GB hard disk has two partitions: one-third of the drive is the C: partition, the other two-thirds is on the D: partition. I'd like to delete my empty D:  partition, and expand the C: partition to fill the entire 250 GB of space.
How do I do this? Do I need a professional?
A: Today's huge hard disks can be sliced up in a zillion different ways by dividing them into partitions. In plain language, a partition is simply a portion of the drive's space.
Some people divide their computer's hard drive into a single huge partition — the C: partition — and work from there. Others like to divide their hard drive into two or more partitions, keeping Windows on the C: partition, and saving the D: partition for bulky files like digital photos, movies or music.
In your case, you want to delete your D partition, and expand the C partition to fit the entire drive. Windows XP can't handle this task by itself, but Windows Vista and Windows 7 can both handle the job fairly easily when you follow these steps:
Copy everything you want to save from your D: drive to your C: drive. (Or back it up to CDs or DVDs, because deleting the a partition erases its files.)
Click the Start button, right-click Computer, and choose Manage.
When the Computer Management window appears, choose Disk Management from the Storage area.
Right-click your D: partition and choose Delete Volume from the pop-up menu as shown below. (Click Yes at the confirmation prompt.)

Right-click your C: partition and choose Extend Volume from the pop-up menu.
When the Extend Volume Wizard appears, click Next at the opening screen, then click Next again to expand the C: drive to fill the room left by the now-deleted D: drive.
Click Finish to tell the Extend Volume Wizard to finish the job of extending the C: drive to fill the available space.
When you're through, your C: partition will consume your entire drive.
Posted: January 6th, 2010 under Hardware, Windows 7, Windows Vista.
Tags: Disk Management, extend volume, shrink volume
Comments
Write a comment