Filling, fitting, stretching, tiling or centering your desktop background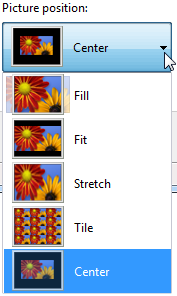 Q: On page 214 of Windows 7 for Dummies, you mention how "to fill in, fit, stretch, tile, or center" the desktop wallpaper, but I cannot find out where you explain the difference. It was so easy to do in Windows XP.
Also, Windows XP's screensaver could put my photos on rotation, with their file names shown at the top. Is this feature lost in Windows 7?
A: Today's computer monitors come in many sizes, from the tiny screens of cell phones to wall-hugging wide-screen TVs. To accommodate them all, Windows 7 offers more desktop background options than Windows XP.
To choose the right background, spend some time on the Picture Position drop-down menu, shown in the top, left corner. A click on that menu offers these options:
Center: This centers your image on the screen. If the image is small, you'll see a solid-colored border around the edges. On large images, you'll see the very center of the image, with the rest outside of view. Choose this for small logos, close-ups of spider webs, and similar things where the focus belongs on the center.
Fill: This shrinks or enlarges your photo to fit your monitor's width. That keeps everything in perspective, but chops off the top and bottom of large images and often stretches tiny images beyond recognition.  Choose this for horizon shots, where a photo's top and bottom often aren't missed.
Fit: Misleadingly named, this option shrinks or enlarges your photo to fit your monitor's height. Everything stays in perspective, but it lops off the sides of large images, and puts borders along the left and right sides of small images. I rarely use this one.
Stretch: Choose this when you must fit all of the photo on the screen, perspective be damned. This might work for some abstract or outdoors shots, but any easily recognizable objects like people or animals may look distorted as Windows stretches or shrinks them to meet your monitor's confines.
Tile: Meant for small images or textures, this repeats the same image across the background like tile along a bathroom wall. You'll find zillions of downloadable textures for tiling across your desktop.
As for your screensaver woes, Windows 7's screensaver features are a step down from Windows XP, and there's no built-in way to display a photo's file name atop the photo.
Update (Thanks, Sharon!): Several models of Hewlett Packard computers running Windows 7 aren't able to save their wallpaper position changes. Hewlett Packard fixed the problem by releasing a patch, which you can download by following these instructions:
Go to the Support area of Hewlett Packard's Web site.
In Step 1 of HP's Web site, choose the "Download drivers and software (and firmware)"
In Step 2 of HP's Web site, enter your product name (e.g. pavilion 2022.)
Click on the link matching your PC model.
Choose Windows 7 operating system (either 32-bit or 64-bit) .
Scroll down the list to "Select software and drivers" and choose "Wallpaper picture position enabler."
If you can't find your product name in Step 3, try downloading running HP's patch directly:
Posted: January 13th, 2010 under Windows 7, Windows 7 for Dummies, Windows XP.
Tags: bug, bug fix, can't change wallpaper, center, desktop background, fill, fit, Hewlett Packard, perspective, sp45575.exe, stretch, Wallpaper picture position enabler
Comments
Write a comment