Converting PDF files to Microsoft Word Files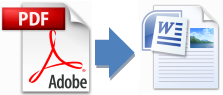 Q: Do you know any web site where I can get a free program to convert a PDF file to Microsoft Word?
A: Adobe created its Portable Document Format (PDF) system to simplify exchanging documents. When viewed with Adobe's free Reader software, PDF documents look the same on different computers: Their formatting doesn't change.
But in order to keep PDF files from changing, Adobe locks them down, so you can't edit them nor translate them easily into other formats. Some Web sites will do the trick for free, though, and these Web sites can both convert PDF files to Microsoft Word files:
These sites and others like them can't remove passwords from protected PDF files, however.
I've never tried either site, but you'll find similar sites on the Internet. Be sure to use them with PDFs that don't contain any sensitive information.
Posted: February 3rd, 2010 under Free software.
Tags: Adobe Portable Document Format, Microsoft Word, online PDF to Word converter, PDF, PDF to Word converter
Comments
Write a comment