Why do the names of my music files keep changing?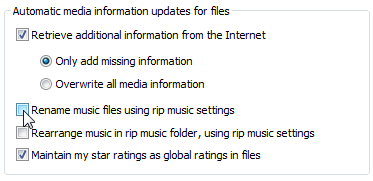 Q: I keep my song files in a single folder, listed in alphabetical order. I play them with Media Player 11, which came with Windows 7.
Some music files have the same title, but performed by different artists. To avoid duplicate file names, I added the name of the artist or group in parentheses, like In the Mood (Glen Miller) and In the Mood (Andrews Sisters) so I can tell the songs apart.
But the next day, the file names reverted to their old names.
How can I stop this from happening?
A: Media Player is the culprit here, and here's why: Whenever you run Media Player, it automatically lists all of your songs in its Library, which lists each song's title and artist name. Then, Media Player begins fiddling with your files, grabbing information from the Internet to make sure the songs' include the right artist names and titles.
In your case, however, Media Player's housekeeping is actually destroying all the time you spent arranging and naming your songs: One of Media Player's tasks can include renaming your songs' file names.
To fix the problem, you need to dive into Media Player's settings by following these steps:
Open Media Player, either by clicking its icon on your taskbar, or clicking Start, choosing All Programs, and double-clicking Windows Media Player.
Click the Organize button and choose Options from the drop-down menu.
Click the Options window's Library tab.
Click to remove the checkmark by "Rename music files using rip music settings."
Click the OK button.
The next time you play your songs in Media Player, the program won't rename them.
Posted: February 23rd, 2010 under Windows 7.
Tags: Media Player 11, music files, Rename music files using rip music settings, stop media player from renaming files
Comments
Write a comment