Favorite Windows Key shortcuts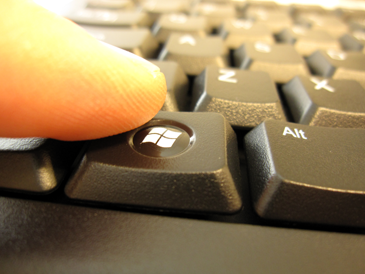 Almost everybody knows at least one Windows Key shortcut: Simply press the Windows Key (

) and the Start menu opens, ready for you to launch a program with a click of the mouse.
Yet, Windows comes with about 30 other Windows Key shortcuts, where you hold down the Windows Key and press a single letter or character to complete a task. Learning a few will really speed up your work, especially on laptops with their awkward trackpads.
I use these Windows key shortcuts most often:
+E fetches the handy Computer program, which grants quick access to your drives, libraries, and favorite folders.
+ ← (the left arrow key) pins a window to your Desktop's left edge; press and the right arrow to place another window against the right edge. That quickly aligns the windows side-by-side on your desktop, making for easy cutting and pasting between them.
+1 launches the first program listed on your taskbar; if it's already running, +1 brings it to the top of my desktop's pile o' windows. Similarly, pressing + 2 fetches the taskbar's second program, +3 calls up the third, and so on.
+ X brings up the Mobility Center on a laptop, a subset of the Control Panel that deals exclusively with laptop features like checking the battery, and turning wireless Internet access on or off.
Here's the full list of Windows Key shortcuts for Windows 7; many work in Windows Vista and Windows XP, as well:
| | |
| --- | --- |
| | Open or close the Start menu. |
| +Pause | Display the System Properties window. |
| +D | Display the desktop. |
| +M | Minimize all open windows. |
| +Shift+M | Restore those minimized windows to the desktop. |
| +E | Open Computer. |
| +F | Search for a file or folder. |
| Ctrl++F | Search for computers (if you're on a network). |
| +L | Lock your computer or switch users, handy when leaving the keyboard for a break. |
| +R | Open the Run dialog box. |
| +T | Cycle through programs on the taskbar. |
| +number | Start the program pinned to the taskbar in the position indicated by the number. (If the program is already running, switch to that program.) |
| Shift++number | Start a new instance of the program pinned to the taskbar in the position indicated by the number. |
| Ctrl++number | Switch to the last active window of the program pinned to the taskbar in the position indicated by the number. |
| Alt++number | Open the Jump List for the program pinned to the taskbar in the position indicated by the number. |
| +Tab | Cycle through programs on the taskbar by using Aero Flip 3-D. |
| Ctrl++Tab | Use the arrow keys to cycle through programs on the taskbar by using Aero Flip 3-D. |
| Ctrl++B | Switch to the program that just displayed a message in the notification area. |
| +Spacebar | Preview the desktop. |
| +Up Arrow | Maximize the current window. |
| +Left Arrow | Maximize the current window to the left side of the screen. |
| +Right Arrow | Maximize the current window to the right side of the screen. |
| +Down Arrow | Minimize the current window. |
| +Home | Minimize all but the current window. |
| +Shift+Up Arrow | Stretch the window to the top and bottom of the screen. |
| +Shift+Left Arrow or Right Arrow | Move a window from one monitor to another. (This assumes you're using a second monitor.) |
| +P | Choose a presentation display mode if you're using more than one monitor or a projection screen. |
| +G | Cycle through your Desktop gadgets. |
| +U | Open Ease of Access Center. |
| +X | Open Windows Mobility Center on laptops or netbooks. |
Posted: March 10th, 2010 under Windows 7, Windows Vista, Windows XP.
Tags: complete list windows key shortcuts, shortcut key, shortcuts, windows key, windows logo key
Write a comment