Setting a default font in Microsoft Works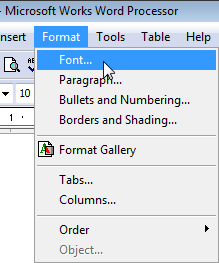 Q: When using Microsoft Works on my old computer, I could change the font and text color, save it, and it would be there for the rest of my letters.
On my new computer, I can't seem to find a way to keep my selected font for new letters. How do I save the font so I don't have to reset it every time?
A: It sounds like you're only changing the font and color for your current document. You need to tell Microsoft Works' word processor that you're making a permanent change.
To do that, follow these steps:
Open Microsoft Works, and open a blank document in Microsoft Works Word Processor.
Click the Format menu, select Font, and choose the font and the font size that you want to use for all new documents.
On the File menu, click Save As, and then click Template.
Type a name for the word processor template, click to select the "Use this template for new Word Processor documents" check box, and then click OK.
The next time you open a document in Microsoft Works, you can automatically start typing with your favorite font and color.
Posted: April 12th, 2010 under Software.
Tags: default font, Microsoft Works, templates
Comments
Write a comment