Retrieving an accidentally uninstalled desktop gadget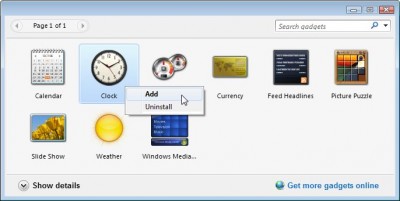 Q: I accidentally uninstalled the Slide Show gadget in Windows 7, and now the Slide Show gadget is gone.
Where did it go, and how do I get it back?
A: Windows 7 offers several "gadgets" — small programs you can embed atop your desktop. One gadget displays a clock, for example; another displays a small slide show of the photos in your Pictures library.
To see Windows 7's built-in gadgets, right-click on a blank part of your desktop, then choose Gadgets from the pop-up menu.
Spot a gadget you like? Right-click its icon, and a pop-up window offers two options: Add or Uninstall. Choosing "Add" places the gadget atop the desktop. And clicking Uninstall, as you've discovered, removes the gadget from the window entirely.
Uninstalled gadgets aren't gone forever, though. Follow these steps to retrieve any accidentally deleted gadgets to Windows 7's Gadgets window:
Click the Start button, and then click Control Panel.
Click Appearance and Personalization.
In the Desktop Gadgets area, click the words "Restore Desktop Gadgets Installed with Windows."
All of the original Windows 7 gadgets will return, including your missing Slide Show gadget.
Posted: December 29th, 2010 under Windows 7.
Tags: gadgets, restore gadgets, uninstall
Comments
Write a comment