Shrinking or resizing a photo and e-mailing it in Windows 7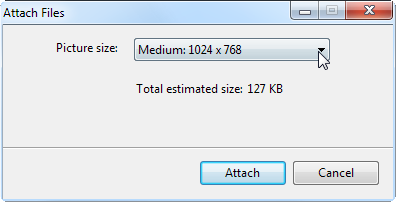 Q: It used to be easy to resize a photo and e-mail it in Windows 7.
Windows Live Mail no longer offers that option.
How am I supposed to shrink or resize a photo before I e-mail it?
A: The latest version of Windows Live Mail is the culprit here, and I'll explain why.
Most digital photos today are enormous. They're often too large to send through e-mail. For most e-mail programs (and Microsoft's previous version of Windows Live Mail), you resize and e-mail your photos by following these steps:
Select the photos you want to e-mail.
Right-click the selected photos, choose Send To, and select Mail Recipient.
When the Attach Files box appears (shown above), choose the photo's new size from the Picture Size box.
When Windows automatically resizes the photos and attaches them to a new e-mail in your e-mail program, you can address the e-mail and send it along.
But once you install the newly updated Windows Live Mail, these steps stop working. Microsoft's new version of Windows Live Mail stops sending the resized photos as attachments and simply embeds thumbnails of the photos into your e-mail message. That makes your message look like this: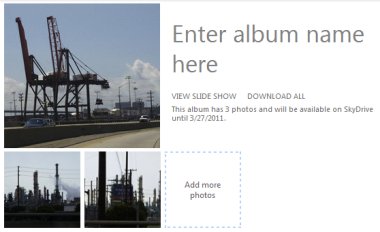 To make matters worse, the new Windows Live Mail doesn't even send your photos to your friend. Instead, the program uploads your photos to one of Microsoft's computers called SkyDrive. Your friends must then visit SkyDrive to download the photos. And if your friend forgets, it's too late: SkyDrive deletes the photos after a certain time period.
So, how do you resize photos and send them as attachments? Well, you can switch to a different e-mail program, like Mozilla's Thunderbird. Or, if you want to stick with Windows Live Mail, you can add photo resizing by downloading another Windows Live product, Windows Live Photo Gallery 2011.
Then, to resize your photos and e-mail them as attachments, follow these steps:
Open Windows Live Photo Gallery 2011 from Windows' Start menu.

When the program opens, select the photos you want to e-mail. (A light-blue box appears around your selected photos, as shown below.)

Click "Create" from Windows Live Photo Gallery's top menu; the program shows you ways to share your photos.

From the Photo Email option, choose Send Photos as Attachments.

When the Preparing Files window appears, choose the photos desired size (800×600 works well), and click the Attach button.
By following those steps, Windows Live Photo Gallery resizes your photos, fetches Windows Live Mail, and places your newly resized photos as attachments to an e-mail. From there, you can e-mail your newly resized photos to your friend.
Finally.
Posted: January 31st, 2011 under Email, Windows 7, Windows 7 for Dummies.
Tags: avoid skydrive, resize photo for e-mail, resize photos, resizing photos for e-mail, SkyDrive, windows live mail
Comments
Write a comment