My Firefox toolbars all disappeared!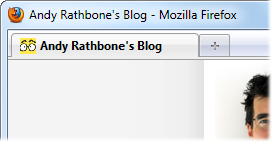 Q: I attempted to eliminate an unwanted Yahoo toolbar on my Firefox browser.
Now, I've lost my browser bar, menu bar, and the standard buttons toolbar. I can't do anything with Firefox.
I tried System Restore. I also tried to drag the screen down, but nothing will move. How do I put the normal toolbars back on top of my browser?
A: Toolbars sit atop nearly every browser, offering a variety of menus, bars, and options. When they're working fine, we barely notice them. But when they disappear, they're sorely missed.
On your computer, for example, Firefox now resembles the screenshot above, where all the toolbars have fled.
Since toolbars are optional, they can be added or removed at will. In fact, Yahoo, Google, Microsoft and other companies all want you to install their own toolbars, so you can access their products that much easier.
But sometimes uninstalling a single unwanted toolbar can strip them all from the top of your browser.
When that happens in Firefox, follow these steps to put them back:
Click the Firefox window to call it to the forefront.
Press and release the Alt key, a shortcut key that always fetches Firefox's Menu Bar for a temporary visit.
From the newly appearing menu bar, choose View, then choose Toolbars.
When the Toolbars drop-down menu appears, click Menu bar first. (That permanently re-affixes the Menu bar to the browser's top.)
Choose View again to retrieve the same Toolbars drop-down menu, if necessary, then click Navigation Toolbar and Bookmarks Toolbar.
That places all of Firefox's normal toolbars to the top. Repeat Step 5 to add any other toolbars you enjoy, perhaps the ones from Google or other companies.
Posted: April 4th, 2011 under Internet, Software.
Tags: bookmarks toolbar, firefox, menu bar, missing toolbars, navigation toolbar, toolbars
Comments
Write a comment