Windows DVD Maker says the "Temporary Directory is not Accessible"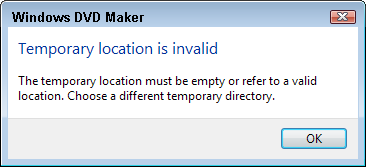 Q: I am trying use Windows DVD maker to make a photo slide show.
After I load the pictures and click the next icon, I receive this error message:
"Error synchronizing project – The temporary directory is not accessible."
Why do I receive this message, and how do I make it work?
A: Windows does many things very well, but communicating its problems isn't a strong point.
In this case, it's giving you technospeak as to the exact cause of the problem. But it's not smart enough to tell you how to fix things.
Translated into real words, the problem boils down to this: Windows DVD Maker needs a spot on your hard drive to store your slideshow before copying it to the DVD. And, for some reason, the program can't find a spot it likes.
You can fix the problem and remove the error message by following these steps:
Open Windows DVD Maker.
In the bottom, right corner, click the blue word "Options."
When the DVD Options window appears, find the Temporary File Location box.
Delete whatever appears in that box, then type this into the box and click the OK button:
C:\Windows\Temp
Tip: Make sure you've typed the two slashes correctly (you need a "\" slash, not a "/" slash), before clicking the OK button.
That tells the program to stash its trash into the same temporary folder used by nearly every other Windows program. (That trash will be dutifully taken out when you run Disk Cleanup, one of Windows' many maintenance programs.)
Posted: February 13th, 2012 under Windows 7, Windows Vista.
Tags: Temporary Directory is not Accessible, temporary location is invalid, Windows DVD Maker
Comments
Write a comment