Why does Windows show my file names in blue letters?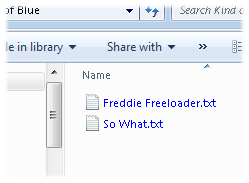 Q: I just noticed that some of my file names have changed to a bluish color in Windows Explorer.
They still seem to work okay, but the names are in blue letters. I've seen this before, but it was always just one file.
This time all the files in one of my folders have changed to blue. What happened?
A: Windows normally displays your file and folder names in black letters. When they turn a different color, though, Windows is trying to tell you something. (Earlier, I explained why the names turn green and how to fix the problem.)
In your case, Windows shows the names in blue to tell you that the files are compressed: compacted to save space. Windows decompresses them automatically when you open them, so you probably won't even notice the slight delay.
Why bother with compression?
Microsoft added automatic compression to Windows more than a decade ago. Back then, when large hard drives were expensive, compression made sense. By compressing everything on your drive, you could cram more files onto it.
Today, compression no longer makes much sense for several reasons:
Hard drives cost much less, and they're enormous compared to the tiny drives of yesteryear.
Your largest files today — the ones holding digital music, photos, and movies — come packaged in a format that's already compressed. Telling Windows to compress them again won't save much space, if any.
Compressing files make them more difficult to retrieve should your hard drive crash.
That said, you can return that unsettling blue color back to black in either of two ways:
Turn off compression
If your hard drive already has plenty of space, just turn off compression (and the blue letters) by following these steps:
Find the folder containing your blue-lettered files or folders. (Or, if all of your file names and folders have blue letters, find that drive's icon in the Start menu's Computer program.)
Right-click the folder (or your drive's icon) containing the blue files and choose Properties from the pop-up menu.
Click to remove the checkmark in the checkbox called, "Compress drive to save disk space." (If you're turning off compression for a folder or file, click the Advanced button to reveal that "Compress contents to save disk space" checkbox.)
After unchecking the compression checkbox (shown below), click the OK button.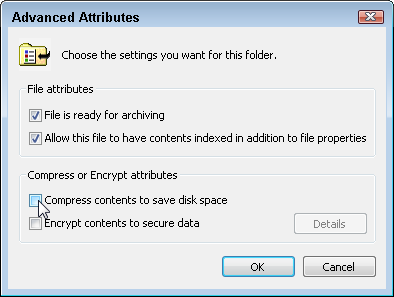 After a moment (or a long time, if you're decompressing your entire drive), Windows will finish decompressing the files, and the blue letters will return to their normal black.
Keep compression, but turn off the blue color
If you want to keep compression, but also want your black letters back, follow these steps:
Click the Start button and open Computer.
Click the Organize button, choose Folder and Search Options from the drop-down menu, and click the View tab.
Click to remove the checkmark from the box named, "Show encrypted or compressed NTFS files in color."
After unchecking the checkbox (shown below), click the OK button.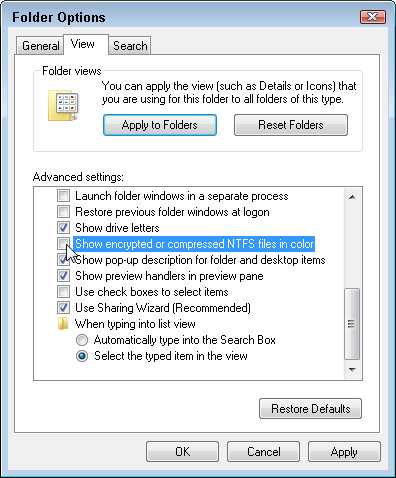 Whether you turn off compression entirely or simply turn off the blue names, your file names will return to normal color.
Posted: February 6th, 2012 under Windows 7, Windows Vista, Windows XP.
Tags: blue, blue file names, blue letters, Compress contents to save disk space, Compress drive to save disk space, file compression, file names, Show encrypted or compressed NTFS files in color
Comments
Write a comment