Will Windows 8 be too difficult to learn?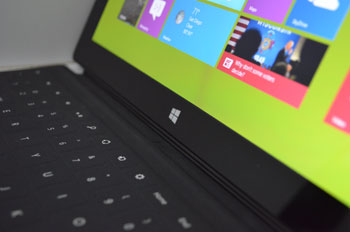 Q: I am considering purchasing a Windows 8 laptop. Being a senior and not as savvy as these young whippersnappers, do you think it'll be too difficult to learn?
I'm presently using Windows XP, and I have used a computer for the last ten years.  But I understand that Windows 8 is a different animal altogether.
I'd appreciate your input.
A: Having written three books on Windows 8, I'm very well-acquainted with Microsoft's newest operating system. And you're right. Compared with Windows XP — or any other version of Windows, for that matter — Windows 8 is a completely different animal.
It's a two-headed beast, and that upsets many people.
Why two heads? Well, half of Windows 8 is the traditional desktop that's been around for years. The desktop works fine with a mouse and keyboard. In fact, you need a mouse and keyboard to navigate the desktop. If you've used earlier Windows versions, you'll find Windows 8's desktop to be quite familiar.
Windows 8's second half, though, is a new tile-filled Start screen and apps —  miniature programs. And the Start screen only shines when you can control it with your fingers on a touchscreen.
So, if you're planning to buy a Windows 8 laptop, I urge you to buy a laptop with a touchscreen. In a few years, every computer will come with a touchscreen: tablet, laptop, and desktop.
Buying a laptop with a touchscreen now will give you a head start on what's to come. That will put you one step ahead of the whippersnappers.
Personally, I haven't upgraded any of my desktop computers to Windows 8. When I need a taste of Windows 8 on a desktop PC, I slide a Windows 8 hard drive into my Windows 7 computer, and boot from that. When I'm done, I pull out the hard drive, and return to Windows 7.
Windows 8 runs on two of my tablets, however, and I love them. On my main Windows 8 tablet, I run Start screen apps to read newspapers and magazines, answer e-mail, and browse the web. Then, when I need to work, I plug in a mouse and keyboard, and open the Desktop app. It's like having a portable tablet and an workhorse PC in one gadget that fits easily into an overnight bag.
When shopping for your new Windows 8 laptop, consider a Windows 8 tablet with a detachable keyboard and trackpad. That would give you the best of both worlds.
By using the touch controls on the Start screen, and falling back to a mouse and keyboard on the desktop, you'll find that Windows 8 isn't really two separate beasts. It's one device that gives you two ways of computing: You can consume information in your leisure, and create information when it's time to work.
Posted: January 29th, 2013 under Hardware, Surface For Dummies, Windows 8, Windows 8 For Dummies.

Comments
Write a comment