Pinning a program's shortcut to the Windows 8 desktop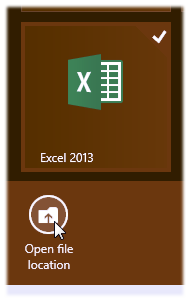 Q: In Windows 8, I often use programs like Word, Excel, Photoshop, and Adobe Premiere.
I know from Windows 8 For Dummies how to pin those programs' icons to the taskbar along the desktop's bottom edge.
But how can I pin their icons to the desktop itself?
My taskbar is getting a little crowded.
A: Windows 8 removed the desktop's traditional Start button, and replaced it with a tile-filled Start screen.
To launch a program, you switch to the Start screen, scroll through its tiles until you find your program, and then launch it with a click.
But finding your program on a crowded Start screen can take a lot of time, so many people take a shortcut: They right-click their favorite program's Start screen tile and click the Pin to Taskbar icon, which adds the program's icon to the desktop's taskbar for easy access.
It's not so easy, though, to place the program's icon on the desktop. But if your taskbar's running out of room for more icons, follow these steps to place a favorite program's icon directly on the desktop:
1. From the Start screen, right-click your desired program's tile. (The Menu bar appears along the Start screen's bottom edge.)
2. From the Menu bar, click the Open File Location icon (shown in this page's top corner).
3. When the desktop opens to show a window showing your program's name (below), right-click the program's name and choose Copy from the pop-up menu.
4. Right-click a blank portion of your desktop and choose Paste Shortcut from the pop-up menu.
The program's icon appears on your desktop, ready to be launched with one click.
This trick works for Windows 8 tablet owners, as well. If you're working with your fingers on a tablet, remember that a tap is the same as a click. (You can right-click on a tablet, as well.)
Posted: February 18th, 2013 under Surface For Dummies, Tablets, Windows 8, Windows 8 For Dummies, Windows 8 For Tablets For Dummies.
Tags: add desktop shortcut in Windows 8, pinning a program to the Windows 8 desktop, windows 8 desktop shortcut
Comments
Write a comment