Setting up multiple Home pages in Internet Explorer 9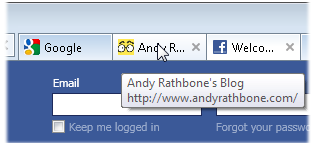 Q: I can't find the arrow next to the Home page button mentioned on page 150 of Windows 7 For Dummies.
I want to use several Home pages, each opened with its tab along the page's top.
What do I do?
A: Microsoft released a new version of Internet Explorer through Windows Update, which replaced Internet Explorer 8 described in Windows 7 For Dummies.
Some people love the new browser; if you don't care for it, it's easy enough to return to Internet Explorer 8.
But love it or hate it, Internet Explorer 9 offers a slightly different way to change your Home page — the page that first appears when you load Internet Explorer.
In fact, Internet Explorer offers tabbed browsing, shown in the figure above, which lets you keep several websites open simultaneously. You can jump between the sites by clicking the tabs along their top.
By adding your favorite websites as your Home pages, they'll all be waiting for you whenever you open your browser.
To add your favorite websites as Home pages, follow these steps:
Click the "Gear" icon in Internet Explorer's top right corner. (Shown below, it's just beneath the red "X" icon for closing the page.)

From the drop-down menu, choose Internet Options.
In the Home Page section, type the addresses of your desired Home pages, each one on its own line.
For example, you could fill that section with these three sites:
http://www.google.com
http://www.andyrathbone.com
http://www.facebook.com
Finished? Click OK to save your Home page choices, and you're done. Add as many as you want, although your computer may slow down if you add more than a dozen.
When you close Internet Explorer and reopen it, your new Home page selections will each open in their own tabs.
Tip: Add your fastest-loading site on the first line. That gives you something to read while you wait for the other sites to load in the background.
Posted: January 23rd, 2012 under Internet, Windows 7, Windows 7 for Dummies, Windows Vista.
Tags: home page, internet explorer, set up home page, tabbed browsing
Comments
Write a comment