What's in Windows 10's Anniversary Update?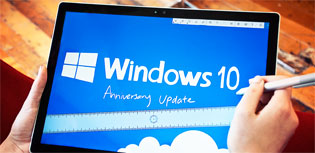 Microsoft released a big update to Windows 10 in early August, 2016. In the past, Microsoft would have bumped the name to Windows 11 and asked everybody to buy a new copy.
But Microsoft now treats Windows 10 as a service rather than a product. Accordingly, Microsoft simply sends your computer this free update through Windows Update, and the name of Windows 10 remains the same.
The update visibly changes Windows 10's Start menu, and leaves its mark throughout the operating system. When your Windows 10 PC wakes up with the new update, you'll probably notice these changes:
Start menu. Microsoft changed the Start menu once again, but the changes are more subtle. Some oft-used icons no longer have visible labels, for example. On tablets, two new icons let you quickly change the Start menu's appearance when in Tablet mode.
Inking. Microsoft doubled down on touchscreens by adding more support for digital pens. You can write notes on your Office documents, and even leave sticky notes atop your desktop. As you write, Windows recognizes your handwriting, converting it to text on the fly.
Cortana. Windows 10's personal digital assistant has grown smarter, offering more commands and a greater grasp of the outside world. In a perk for the impatient, Cortana can now offer assistance even before you log into Windows.
Windows Hello. Microsoft hopes to make passwords obsolete with Windows Hello, a biometric security feature. By sliding your finger across a fingerprint reader or staring at a camera, you can log onto your computer quickly and safely. With more Windows Hello compatible cameras and fingerprint readers arriving in the stores, you can file your password in the Obsolete Technology bin.
Xbox 360. Windows 10 now runs on Microsoft's Windows 360 game console, where it looks nearly the same as it does on your PC.
Bug fixes. Windows 10 runs more smoothly across a wider variety of computers and tablets. The update fixes many of the most irksome bugs, and it tries to make it easier than ever for you to find information on your computer and put it to work.
Cost. Microsoft's offer for a free upgrade to Windows 10 ended July 29, 2016. If you want Windows 10 now, you must either pay for an upgrade or buy a new PC.
Rollback time. In the past, Microsoft gave you 30 days to return to your old operating system if you didn't like the new one. Now, Microsoft only gives you ten days to make up your mind.
Don't like change? Well, it's important to remember that Microsoft treats Windows 10 as a service rather than a product. And, just like any other service, Windows constantly changes.
Windows 10's apps can update themselves at any time, adding new features, removing unpopular ones, and fixing problems. The Anniversary Update changes Windows 10 in several ways, but change is an integral part of running Windows 10. Don't be surprised when Windows 10 suddenly behaves a little differently.
Posted: August 7th, 2016 under Windows 10, Windows 10 For Dummies, Windows 10 For Dummies Second Edition.

Comments
Write a comment