The "All Programs" entry disappeared from my Windows XP Start menu!
Q: My friend has lost his "All Programs" button on his Start menu. How can we reactivate it? We tried going to oldest "System Restore" point, but that didn't work. Since he didn't have desktop icons for those programs, he's running on borrowed time. Can you help us?
A: This sounds suspiciously like your friend accidentally switched to XP's "Classic" view, which makes Windows XP look like some older versions of Windows. Switching to Classic view has a side effect of dropping "All Programs" from the Start menu.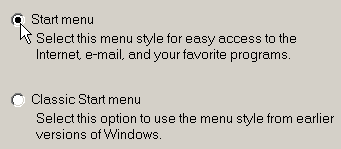 To switch back to the "normal" view, right-click the Start menu and choose Properties. When the Taskbar and Start Menu Properties page appears, shown below, choose Start menu (rather than Classic menu) and click OK.
That should solve the problem.

Posted: August 24th, 2009 under Windows XP.
Tags: Start menu
Write a comment