Using Windows XP's hidden fax program

Both Windows XP Home and Professional include a program to send and receive faxes, but the program's hidden: It's not normally installed when you install or upgrade to Windows XP.
After installing the fax program, it's no problem to leave the fax turned on all day. Sure, the junk faxes still pour in. But I just click on their names and press the Del key: No more wasted fax paper!
You need four things to send or receive faxes with Windows XP:
Your computer must have a dial-up modem. Look for a telephone jack on the back of your computer, laptop, or "all-in-one" printer.
Windows XP must have its fax program installed. The program isn't installed automatically, and you may need to insert a Windows XP CD to install the fax program. Not all new computers come with a Windows XP CD.
Your home needs a phone jack with a working phone line. DSL users also need a converter to plug into their DSL jack — the same converter they need in order to plug in a regular telephone. And, no, Voice Over Internet Protocol (VOIP) won't work for sending faxes reliably. A cable modem can't send faxes, either.
A phone cord connected between your computer's dial-up modem jack and the telephone jack in the wall.
Cable and DSL users probably can't send faxes unless their PC came with a built-in dial-up modem. If you don't spot a phone jack on your PC, you can buy a cheap USB or card-based fax modem; Upgrading and Fixing PCs For Dummies shows how to install it.
Installing Windows XP's fax program
Windows XP doesn't install its fax program automatically, like it does for Windows Messenger and other programs. Here's how to pull it out of its hiding place.
Choose Control Panel from the Start menu.
Choose Add or Remove Programs.
Click Add/Remove Windows Components to start the Windows Components Wizard.
In the Components list, click to select the Fax Services check box, and then click Next.

Wait while Windows begins to install the Fax program. If requested, insert your Microsoft Windows XP CD and click OK.

(No Microsoft Windows XP CD? Before assuming you're completely out of luck, tell XP to look in this folder, instead: C:\windows\i386\, as some manufacturers hide it in there.)

Click Finish when installation is through.
Click OK to close any open windows.
The installation program leaves you with a headscratcher, though. Where is the Fax program? Actually, Windows treats the fax program as a printer, making faxing is as easy as printing. Use the same steps you use to print your document, except select "Fax" from your list of printers.
Sending a fax in Windows XP

For instance, to fax a letter you've written in Word or WordPad, choose Print from the File menu. You'll see the a fax icon, like the one to the left, listed next to your printer icon. Choose the fax icon as your printer, and the Fax Configuration Wizard appears. The Wizard guides you through filling out a "cover letter" form, then it sends your fax.
Receiving a fax in Windows XP
To leave your computerized fax machine on and ready to receive any incoming faxes, follow these steps:
Choose All Programs from the Start menu.
Choose Accessories, then Communications, then Fax.
Select Fax Console.
Choose Fax Monitor from the Fax Console's Tools menu.
The Fax Monitor waits silently for your next junk fax to arrive — provided you leave a telephone cord constantly plugged into both your phone outlet and your computer's fax modem. When a fax arrives, a little fax icon appears on your taskbar near the clock, and a message alerts you to its arrival.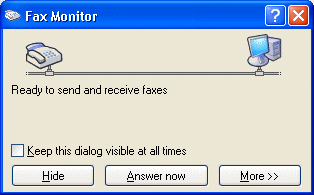 Tip: Click the Fax monitor's Hide button to let it work in the background, off your desktop.
Windows XP's Fax Console is a surprisingly powerful program, with an easy-to-use Help system. Choose Help Topics from the Fax Console's Help menu for information on customizing Cover letters, as well as help on archiving and managing your faxes.
Troubleshooting
Tony says the fax program stopped working. He headed to the Control Panel's Add or Remove Programs area, and uninstalled the fax program. After reinstalling it and restarting his PC, the program began working again.
Bill says Windows XP's fax program used to work, but then kept saying "No Answer," even when the other fax machine had answered.  After trying in vain to uninstall and reinstall the program, he realized he'd added the dial-up codes to block his Caller ID. Once he removed those, the fax began working again.
Posted: September 10th, 2009 under Windows XP.
Tags: dsl converter, fax program, fax services, free fax program, receiving faxes, sending faxes
Comments
Write a comment