My browser's thumbnails disappeared from the new tab page!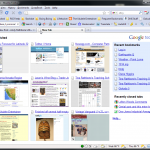 Q: Whenever I clicked my browser's New Tab button, the new tabbed page used to show thumbnail views of my most visited Web sites, so I could select one at ease. This feature has now disappeared. Can I get it back or have I done something to banish it forever?
A: No, you didn't do something to banish that thumbnail view. Microsoft is the culprit here, and you won't find that feature reappearing in Internet Explorer.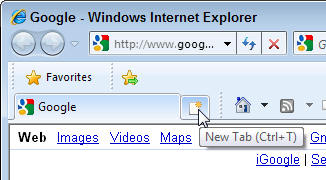 On most browsers, you can fetch an empty tab by clicking that stub of a tab to the right of all your open tabs.
Once that new tabbed page appears, you can fill it by visiting a Web page of your choosing.
Google's Toolbar, which rides atop browsers like Internet Explorer and Firefox, filled that formerly empty tab with thumbnail views of your most visited Web sites.
Microsoft, however, preferred to fill that empty space by touting Internet Explorer 8's new features. Not happy that Google had covered its promos, Microsoft forced Google to "retire" that feature from their toolbar.
So, to get that feature back, you can install either Firefox or Google's own Chrome browser. Both work fairly similarly to Internet Explorer. Personally, I use Firefox, as I find it more secure than Internet Explorer.
Posted: June 9th, 2010 under Internet.
Tags: blank tab page, Chrome, firefox, Google toolbar, new tab, thumbnail views, thumbnail views of your most visited Web sites
Write a comment