What's on the DVD in the Windows 7 For Dummies DVD bundle?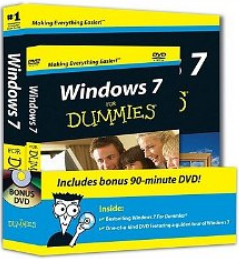 Q: What exactly is shown on the DVD included in your Windows 7 For Dummies book/DVD bundle?
I can't find that information anywhere.
A: Windows 7 For Dummies is often sold with a bundled training DVD.
The bundled DVD contains about two hours of video training that walks you through many of the steps described in the book.
For example, the video below describes how to save and download information you've found helpful on the Internet (it's just one of many videos on the DVD):
You can watch the DVD either through your computer's DVD drive or a DVD player connected to your TV.
Here's the DVD's table of contents:
Introduction
Getting Started with Windows 7
Launching Windows 7 For the First Time
Touring the Interface
Playing with Windows
Using the Windows 7 Help System
Logging Off, Shutting Down, and Restarting Windows 7
Working with Programs and Files
Starting a Program
Navigating Windows 7
Opening and Saving a Document
Setting Up a Printer
Printing a Document
Getting Things Done Online
Connecting to the Internet
Working with Internet Explorer
Saving and Downloading from the Internet (This video is the one I've shown above)
Getting Started with Windows Live Mail
Customizing Windows
Jazzing Up the Desktop
Setting Up User Accounts
Tweaking Toolbars, Taskbars, and Menus
Adding and Removing Programs
Windows Media Options
Getting Started with Media Player
Organizing Your Library
Playing Your Media
Burning CDs and DVDs
Part of Tens
Ten Common Problems and How to Fix Them
Ten (or so) Helpful Windows Applications
The Windows 7 For Dummies DVD bundle is available from Amazon, along with most other bookstores.
Posted: January 21st, 2011 under Books, Training, Windows 7 for Dummies.
Tags: DVD bundle, Windows 7 For Dummies DVD
Comments
Write a comment