The names disappeared in thumbnail view!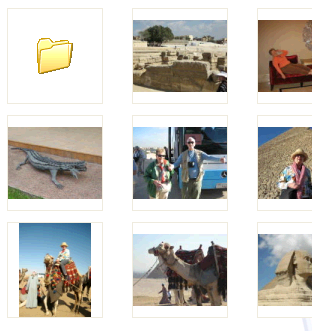 Q: I don't know what I did last week.
All the names beneath my folders and pictures have suddenly disappeared.
If I place my mouse pointer over the folder or picture, Windows XP tells me the name of the folder or picture.
But I want to bring back the names beneath the thumbnails! How do I bring them back?
A: In Windows XP, Microsoft really wanted a neat and tidy look. For example, the Desktop Cleanup Wizard constantly threatens to clean up your desktop if you haven't touched a desktop icon in awhile.
And, Microsoft wondered, wouldn't the windows look less cluttered if we removed all the names from beneath the icons in Thumbnail view?
So, Microsoft added the feature: If you hold down the Shift key while choosing Thumbnail view, the names disappear from view, as shown above.
Unfortunately, it's all-too easy to hold down the Shift key accidentally while choosing Thumbnail view, only to wonder why your file and folder names have mysteriously disappeared. When that happens to you, follow these steps to put the names back in their rightful place:
Open the folder containing your name-less thumbnail icons. (It's often your My Pictures folder, but it could be any other folder, as well.)
From the folder's menu, click the View button and select Details (or any other view, actually).
Click the View button again, but this time hold down the Shift key and choose Thumbnails.
Your file names should reappear beneath the thumbnails and folders.
Holding down the Shift key while choosing Thumbnails is a toggle switch; do it once, and the names disappear. Do it again, and the names reappear. It only affects that one folder, as well; the other folders remain unaffected, adding to the mystery.
If you need to cram a lot of thumbnails into tight quarters, removing their names will move them slightly closer together. Other than that, though, the Shift+View trick serves mostly as a nuisance.
Posted: May 16th, 2011 under Windows XP.
Tags: File name missing in My Pictures, missing file name, missing filename in thumbnail view, missing icon titles, missing names, photos, thumbnail view
Comments
Write a comment