Alphabetizing your folders' Favorites list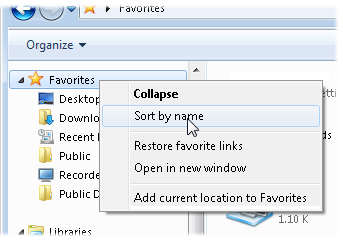 Q: How do I alphabetize the Favorites list in my Windows 7 folders?
A: Open any folder in Windows 7, and you'll spot the Favorites list in the top left corner.
This handy collection of shortcuts starts with only three entries: Desktop, Downloads, and Recent Places.
Click the Desktop entry to see the contents of your Desktop, for example. Clicking Downloads opens the folder stocked with items you've downloaded with your web browser. And click Recent Places to revisit folders or Control Panel items you've just left.
Feel free to customize the Favorites list with your own favorite locations. To add your currently open folder, for example, right-click the word "Favorites" and choose "Add current location to Favorites" from the pop-up menu. Your newly added folder quickly appears as a new link at the bottom of the Favorite list.
After you begin stocking your Favorites list, that once tiny list suddenly looks cluttered. Wouldn't it be nice if they were listed alphabetically?
To alphabetize your Favorites list, right-click the word Favorites, then choose Sort By Name from the pop-up menu shown above. (You may need to open and close your Favorites list for the list to sort itself out.)
Posted: June 27th, 2011 under Windows 7.
Tags: alphabetical order, alphabetize favorites list, favorites, sort by name
Write a comment