Stopping media players from fighting over your music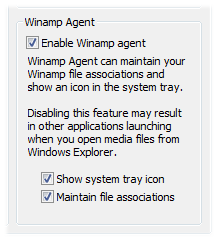 Q: Windows XP won't remember my choice of media players.

When I right-click a music file and choose Play from the pop-up menu, I choose Windows Media Player. I also click the box that says, "Make this player default."
But the next time I open a music file, a different media player opens the file. Right now, a media player called Creative MediaSource that came with my sound card takes control again and names itself "King."
How can I stop it from always taking over control of my music?
A: Every music player on your computer wants the right to play your music.
Because of their possessiveness, you may find yourself handling arguments between iTunes, Windows Media Player, and even that odd music player bundled with your new sound card.
Sure, you can go through the steps of choosing your default music player by choosing Start -> Default Programs (Windows 7, Windows Vista) or Start -> Set Program Access and Defaults (Windows XP).
But even after you've gone through that trouble, one player keeps taking over.
The culprit? Some older media players include a special setting that makes them verify that they're the default player each time they're loaded. If that player discovers that a different program is the default player, the newly loading player snatches back that right for itself.
To stop that program from hogging the default player setting, you need to turn off a hidden setting in your rogue media player. But how do you find the setting?
It's not easy. Different players use different language and different menus. But start by finding the Options or Preferences menus, and then looking for the words "default" or "file associations." When you find those options, turn them off, and you've solved the problem.
The figure at the top of this page, for example, shows how Winamp's "Enable Winamp agent" setting tells it to grab the default player setting whenever it's loaded. Turning off the "Enable Winamp agent" setting from the Preferences menu stops Winamp from hogging the default player setting
Posted: September 5th, 2011 under Software, Windows 7, Windows Vista, Windows XP.
Tags: default media player, enable winamp agent, winamp
Write a comment