Why does Windows show my file names in green letters?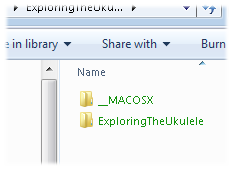 Q: My friend sent me a folder with zipped files.
When I opened it on my computer, Windows showed the files' names in green letters, rather than the normal black.
And when I tried to copy the zipped folder, Windows sent me this error message:
"Confirm Encryption Loss. Do you want to copy this folder without encryption? A problem is preventing this folder from being encrypted."
What am I doing wrong?
A: Displaying file names in green letters, as shown above, is Windows' way of telling you that those files are encrypted: They're encoded to keep out snoops.
When Windows thinks a file is encrypted, it sometimes sends out odd error messages like the one below: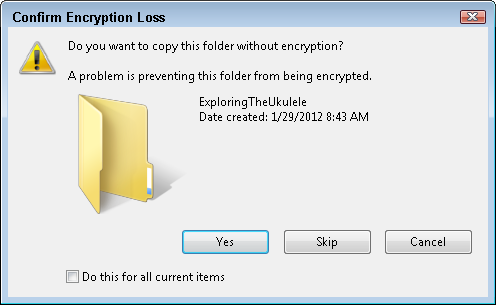 But the confusion can be cured quite easily. Turn the names back to black and avoid that error message by following these steps:
Right-click the green-lettered file or folder and choose Properties.
When the Properties window appears, click the Advanced button.
Click to remove the checkmark from the box called, "Encrypt Contents To Secure Data," shown below, and click the OK button.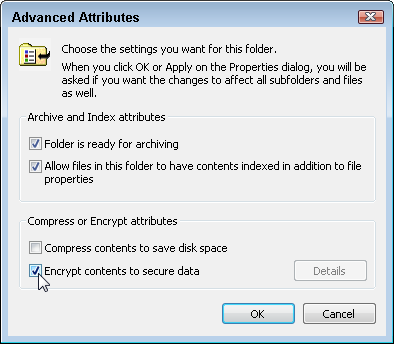 The letters return to their normal black, and you can share them with others without problem.
Why did this even happen?
This didn't happen because of a virus, so no worries there. No, this annoying problem usually pops up when dealing with a file that's been zipped on an Apple computer, then opened with a Windows Vista or Windows 7 computer.
You can tell the zipped file came from an Apple computer if you spot a folder named __MACOSX inside the zipped folder. (That folder can be safely deleted on a Windows PC.)
Posted: January 30th, 2012 under Email, Error message, Privacy, Safety, Windows 7, Windows Vista.
Tags: _MACOSX, a problem is preventing this folder from being encrypted, apple, confirm encryption loss, do you want to copy this file without encryption, encrypted files, file names in green letters, green file names, zipped files
Comments
Write a comment