Seeing Bcc recipients on e-mails you've sent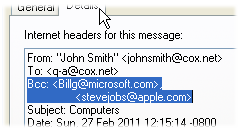 Q: When sending e-mail to many people in Outlook Express, I put their names on the Bcc (blind carbon copy) line to preserve everybody's privacy.
However, when I open my Sent folder and look at that e-mail, it doesn't show the Bcc line listing the recipients. How can I see the Bcc recipients on e-mails that I've sent?
My son says he can see them in his Google mail. What am I doing wrong?
A: Bcc, also known as "Blind Carbon Copy," lets you hide your recipients' e-mail addresses from each other. You can mass mail your vacation photos to your friends — some of  whom may not know each other — and preserve everybody's privacy by placing their e-mail addresses on the Bcc line.
Later, when you open your Sent folder to view your previously sent e-mails, you always see the To and Cc fields. But you might not see the Bcc field, making it difficult to see who received your e-mail. Plus, not seeing the list makes it difficult to send another e-mail to the same group of people.
Some e-mail programs list the Bcc line on previously sent e-mails; other programs don't. Outlook Express, for example, doesn't show the Bcc list on your Sent e-mails. Google's Gmail, by contrast, does.
But even though Outlook Express doesn't show the Bcc line on e-mails you've sent, you can still view the recipients by following these steps:
Open Outlook Express and click your Sent Items folder.
Right-click the e-mail you've sent using Bcc.
Choose Properties from the pop-up menu, and click the Details tab.
There, just above all the technical gibberish, you'll see all the names listed in the From, To, and, most important, the Bcc fields.
Of course, you can view this information only because you sent the e-mail. The recipients listed on the Bcc fields won't be able to see the other recipients by using this trick.
Posted: February 28th, 2011 under Windows XP.
Tags: bcc, blind carbon copy, details pane, e-mail, outlook express, seeing bcc addresses, sent e-mail
Comments
Write a comment