Changing line spacing in Windows 7's WordPad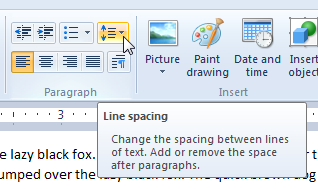 Q: I am having trouble with WordPad in Windows 7.
It's set up to give me two lines between sentences. How can I change it to give me one line between sentences?
A: With Windows 7, Microsoft changed the menus in both Paint and WordPad. Instead of the familiar pull-down menus along the program's top, the programs now sport a large button-filled bar known as a "ribbon menu." Some people love the new menus, others hate them. But love 'em or hate 'em, they require some figuring out before you can get some work done.
To change the line spacing in WordPad, look for the "line-spacing" button on the menu bar. (The mouse pointer aims for it in the screenshot below.)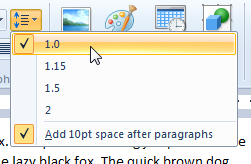 When you click the button, a menu appears (left), letting you change the line spacing to meet your needs.
Tip: To see the purpose of any menu button, rest your mouse pointer over it. A box appears, offering an explanation of what that button accomplishes.
Update: But what, you may ask, if you want to remove that blank line that WordPad places between paragraphs? To do that, choose the last option from the line-spacing menu: "Add 10pt space after paragraphs." That removes the checkmark, telling WordPad to stop placing the extra space between paragraphs.
Tip: To stop WordPad from adding in its blank line after your current paragraph, hold down the Shift key while pressing Enter. WordPad starts the next paragraph immediately after the first, without adding an extra line. That trick comes in handy when creating tables or charts, for example.
One more tip: To change your spacing without bothering with the menus, use some of WordPad's many keyboard shortcuts:
Ctrl+1     Set single line spacing
Ctrl+2     Set double line spacing
Ctrl+5     Set line spacing to 1.5
Update: If you're tired of using WordPad's built-in workaround tools, the HoldKey website offers a small registry tweak program that fixes the line-spacing problem.
Posted: November 12th, 2009 under Windows 7.
Tags: changing line spacing in wordpad, line spacing, wordpad
Comments
Write a comment