How do I open Desktop icons with a single click?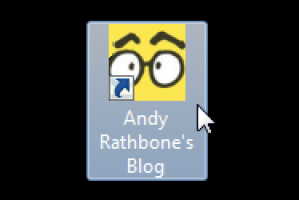 Q: I am unable to use a single click to open a desktop icon. Can you help please?
A: Windows 7's desktop icons traditionally require a double-click to open.
A single-click does the trick on the Start menu and Taskbar, but the Desktop wants that extra effort of a double-click.
But if you don't like that setup, here's how to make a single-click open icons on the Desktop, as well:
Open any folder, and click the Organize button near the top left corner.
Choose Folder and Search Options from the drop-down menu.
In the "Click Items as Follows" section, choose "Single-click to open an item (point to select)"
Click the OK button.
That lets you open desktop icons — and icons within folders — with a single click.
Posted: September 6th, 2010 under Windows 7.
Tags: Desktop, double-click, single-click, Start menu, taskbar
Comments
Write a comment