Clearing your recently opened documents history in Microsoft Word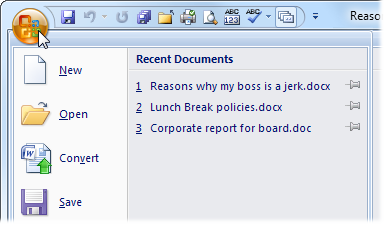 Q: When I open Microsoft Word 2007, it lists the last documents I've opened. How do I clear those entries?
A: Microsoft Word, like many programs, keeps track of your most recently opened documents. That's often quite handy, as you usually open the same document several times before finishing and moving on.
But when you're working on something private, how do you keep others from seeing your last-opened documents? The answer comes through a setting hidden deep in Word's menus.
In Microsoft Word 2007, follow these steps to remove your recently opened document history:

Click on the Office button (shown above), and then click Word Options in the bottom of the drop-down menu.
Click Advanced.
Scroll down the Advanced page until you reach the Display section.
Set the value for "Show this number of Recent Documents" to 0 (zero).
Click OK button.
The Recent Documents list will be empty.
To add Recent Documents back to your Word list, repeat steps above, but set the number of original documents to 5, 10, or any other number you want.
Or, to keep Word from showing any recently opened documents, just leave that number set to zero.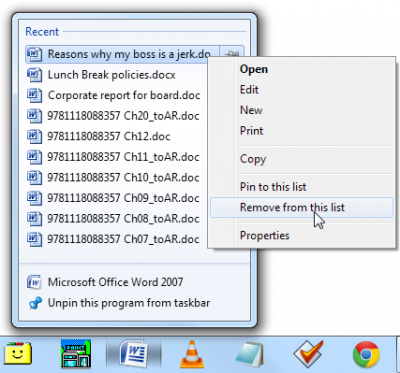 But you're not done yet.
Privacy seekers will be horrified to find recently opened documents still appearing in Windows 7's jump lists — the lists of recently opened documents that appear above a taskbar icon, shown to the left.
To see any program's jump list, right-click on the program's icon. When the Jump List appears, click the offending item and choose Remove from this list.
The unwanted item disappears, to be replaced by another recently opened item.
Posted: June 6th, 2011 under Privacy, Software, Windows 7.
Tags: clearing history, clearing recently opened documents, Microsoft Word, word
Comments
Write a comment