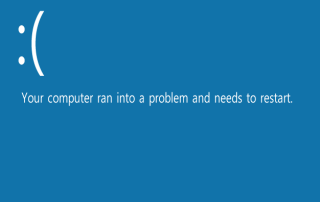 Q: My Windows 8 computer crashed with a blue screen, saying it had a problem and need a repair.
Since I couldn't start my computer, I couldn't do a Refresh or a Repair, so I had to take the computer to a shop.
How can I avoid this in the future?
A: When Windows is about to die, it doesn't ask for a last meal. No, for the past 30 years, Windows has used its last breath to toss an error message across a blue screen.
When you see what's often called the Blue Screen of Death, there's no going back. Windows has died, taking all your unsaved work along with it.
Sometimes simply restarting your computer fixes the problem. Other times, restarting Windows only brings a repeat of the blue screen. And in Windows 8, that means trouble: You can't access Windows 8's built in Refresh and Repair tools.
Your best hope is that you've created a Recovery Drive — either a flash drive or CD/DVD — that contains built-in fix-it tools to bring Windows 8 back to life. (I've covered Windows 7's recovery discs and repair discs in another post.)
If you haven't yet created a Recovery Drive for Windows 8, take the time to follow these steps: Click to read more »
Posted: July 15th, 2013 under Error message, Hardware, Safety, Windows 8.
Tags: blue screen of death, bsod, flash drive, recovery disc, Recovery Disk, recovery drive, usb flash drive
Comments: 6