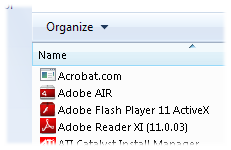 Q: Recently a relative gave me a computer that runs Windows XP.
I'm trying to clean it up, and I discovered several Adobe programs: Acrobat, Air, Shockwave Player, and Flash Player.
Do I need them all, or can they be safely deleted?
A: Since its founding in 1982, Adobe Systems has released many programs, and you'll find one or two Adobe programs on nearly every PC. But which ones do you need, and which can you safely delete?
The short answer is that you can delete many of them found on older PCs. That's because the latest versions of Adobe's most popular and commonly found programs can be downloaded and re-installed for free from Adobe's download page.
Here are longer answers for the specific programs you found on your particular Windows XP computer: Click to read more »
Posted: June 24th, 2013 under Software, Windows XP.
Tags: acrobat, adobe air, flash player, reader, shockwave player
Comments: none