Taking screenshots in any version of Windows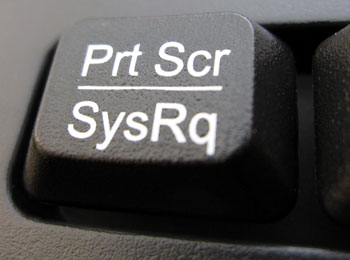 Q: I am running Windows 7 Home, and I need to print screen shots. The Print Screen button doesn't work. What am I doing wrong?
A: When you press the Print Screen key, usually labeled "Prt Scr," "Print Scr," "PrtSc" or something similar, you won't think anything has happened. It certainly won't send your screen to the printer.
But in the background, Windows has sent a snapshot of your screen to the Clipboard, a little storage tank for informational tidbits. (Windows XP even lets you view the clipboard's contents; later Windows versions don't.)
In your case, since you want to print that snapshot, you should copy your snapshot into a graphics program like Paint. (Paint is a graphics program included with every version of Windows, including Windows 7.)
Follow these steps to print or save screenshots from within any version of Windows:
On your Windows desktop, align your windows the way you want them to appear when printed or saved as an screenshot.
Press the Prt Scr key to send the image of your desktop to Windows' hidden Clipboard. (To capture only an image of your currently open window, hold down the Alt key while pressing PrtScr.)
Click the Start menu, choose All Programs, choose Accessories, and click on Paint.
When Paint opens, click the Paste icon from the ribbon along the top; your image will appear in Paint. (Or, you can hold down Ctrl and press V to paste your screenshot into Paint.)
Once the image is in Paint, you can print it (Ctrl+P) or save it as a file (Ctrl+S). (You can also edit it with Paint's editing tools before printing or saving your handiwork.)
If you're e-mailing the image to somebody, save it in the PNG or JPG format, as those formats create smaller files.
Posted: April 26th, 2010 under Windows 7, Windows Vista, Windows XP.
Tags: printing the screen, screen shots, screenshots
Comments
Write a comment