Adjusting desktop icon spacing in Windows 7

Q: Windows Vista allowed me to specify Icon Spacing (Horizontal) and Icon Spacing (Vertical) from an Advanced button on a Display Properties screen from within Control Panel. How do I navigate to this same control within Windows 7? It is probably in your fine book. I just can't find it.
A: With today's mixture of monitor sizes, changing your desktop icon spacing makes a world of difference in how your desktop looks, feels, and behaves.
Just as with Windows Vista (and Windows XP), Windows 7 lets you adjust the space between your desktop's icons. However, Microsoft moved the setting in Windows 7. To find it, follow these steps:
Right-click a blank part of the Desktop and choose Personalize.
Click the Windows Color icon near the bottom of the Personalize window.
Choose Advanced Appearance Settings at the bottom of the Window Color window. (The familiar Windows Color and Appearance window appears.)
In the Item drop-down list, choose either Icon Spacing (Horizontal) or Icon Spacing (Vertical) and choose the desired spacing in the Size box.
Click Apply to test your changes. Not perfect? Head back to Step 4 and experiment until you find spacing you like.
Choose OK when you've spaced them to meet your needs.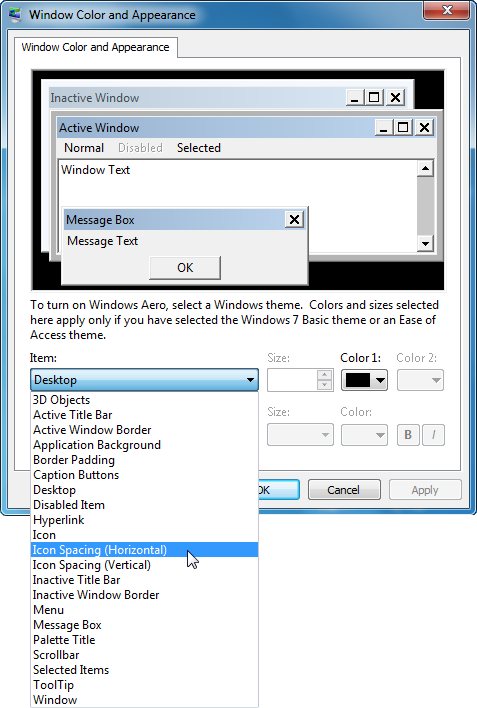 Posted: September 8th, 2009 under Windows 7.
Tags: adjust desktop icon spacing, adjusting icon spacing, Desktop, horizontal icon spacing, Icon Spacing (Horizontal), Icon Spacing (Vertical), vertical icon spacing
Comments
Write a comment